When Nate Jenkins committed to play for UW-Green Bay last April, it offered the former Iowa State walk-on a chance to return to his home state of Wisconsin.
The Delafield (Wisc.) native spoke with several schools while he was in the transfer portal, but they simply couldn't offer the same things UWGB could.
"Green Bay was close to home, and it had a family feel – I also had previous relationships with Coach (Freddie) Owens and Coach (Will) Ryan" said Jenkins.
The program battled through injuries and illness all season long – leaving the Phoenix short handed for most of the year. However, if it weren't for the program enduring these struggles – they might not have gotten a chance to see what Nate Jenkins was truly capable of on the court.
The transfer guard bet on himself when he committed to Green Bay as a walk-on – hoping if he put in the work he would eventually be rewarded with a scholarship.
That gamble quickly paid off when Jenkins was placed on scholarship at semester due to the departures of guard's Blayton Williams and Donovan Moore.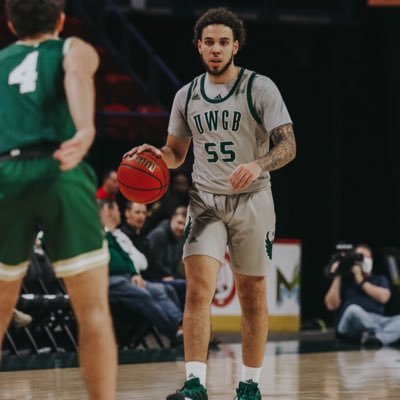 The Kettle Moraine (Wisc.) High School grad appeared in 23 games this season, starting 10 of them. Jenkins averaged 6.4 points, 1.9 rebounds, and 1.1 assists in just over 21 minutes per game.
However, the averages don't tell the whole story of his impact for the Phoenix this season.
Through Green Bay's first 10 games, Jenkins averaged a meager 1.8 points, 1.1 rebounds, and 0.5 assists in 11.2 minutes per game.
It wasn't until late January when Jenkins was given the chance to earn an expanded role for the Phoenix that he really began to make a name for himself.
Over his last 12 games, Jenkins averaged 10.2 points, 2.6 rebounds, and 1.7 assists while shooting 40% from beyond the arc in just over 29 minutes per game.
The 6-foot-2 guard made the transition from lightly used reserve, to starter/rotation fixture look seamless.
The former walk-on graded out as the team's best defender allowing just (0.814 PPP). Additionally, he averaged a respectable (0.87 PPP), led GB in 3P%, and took care of the basketball.

"Coach Ryan's style is deliberate. Just taking it a possession at a time and making the most out of each possession. He and the coaching staff have helped me in so many ways, but one that stands out most to me would be decision making. Just playing under control and off two feet – especially when I get into the lane." said Jenkins.
The sophomore guard excelled to the tune of (1.049 PPP) as a pick-and-roll ball handler – which placed him in the 94th percentile in all of college basketball.
Jenkins was equally as impressive defending the pick and roll, allowing just (0.553 PPP) – putting him in the 84th percentile.
Jenkins has a lot to be proud of after a breakout campaign, and he did confirm he would be returning to the program next season – but Jenkins knows there is still plenty of work to be done:
"We need to improve on knocking down shots, myself included. We also need to work on getting tougher and playing harder for all 40 minutes. I'm ready to get back to work and show everyone our growth as a team."
There is no arguing that Nate Jenkins was an incredible find by Will Ryan and his coaching staff via the transfer portal, he was a diamond in the rough for the Green Bay Phoenix.
Visit https://horzizoneroundtable.com/ for the best Horizon League basketball coverage all in one place.